Easy Uninstaller App Uninstall
3.3.4
Uninstall App – Safe Removal of Apps Made Possible
Is your phone storage running out of space? Do you want to safely remove some of the apps that you have installed on your phone? If yes, then you will find this uninstall app to be very useful. Easy Uninstaller App Uninstall is a helpful app which allows you to safely remove the apps that you don't need anymore and frees up your phone's internal memory. It ensures that the apps you no longer use are removed from the phone completely and all their data is permanently erased. You won't have to wait long for the uninstall process to finish as it takes mere seconds for this app to remove apps. It does not matter what type of app it is, if it isn't a system app then this uninstall app will erase it with consummate ease.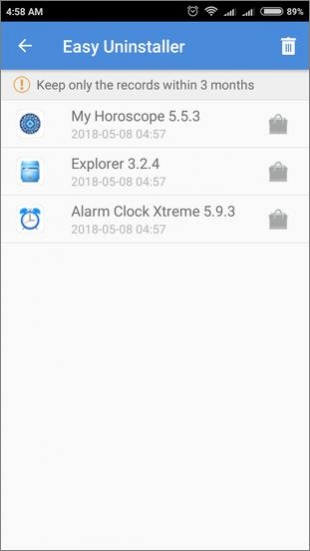 Easy Uninstaller App Uninstall combines a user-friendly layout and design with an intuitive user interface to provide an easy-to-use app that anyone can use. It has a home screen that offers you a list of all the apps installed on your phone. You can choose the apps that you want to uninstall from this list and remove them with just a single click. If you want to uninstall multiple apps at once then all you have to do is to select them and uninstall them utilizing them batch uninstall feature of this uninstall app. App selection can be done by checking the box present in front of the individual apps. After selecting the unnecessary apps, you just need to click the Uninstall button located at the bottom of the screen to uninstall them.
This uninstall app lets you sort the installed apps in a number of ways. The sorting options available to you include 'by date', 'by name' and 'by size' in both ascending and descending order. After sorting the apps as per your desire, you can easily choose the apps that are worth removing from your phone. In addition to this, you can instantly find the apps that you want to uninstall by using the search option. This option is located at the top bar of the screen. You simply have to enter the name of the app to locate it and then uninstall it. Upon uninstalling an app, Easy Uninstaller App Uninstall also removes the junk files of that app as well. This ensures that no trace of the uninstalled app is left behind.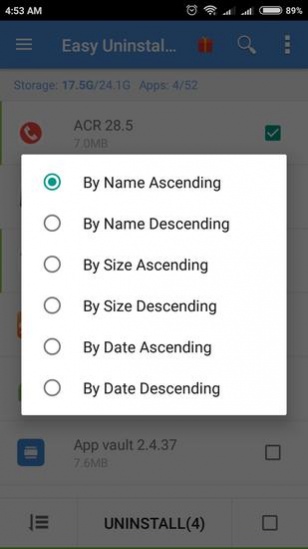 Easy Uninstaller App Uninstall provides an Uninstall History section to you. This section is a kind of a Recycle Bin which keeps the information of the uninstalled apps for a few days. The aim of this section is to offer you the chance to reinstall the uninstalled apps from the Google Play Store if you need them again. Do remember that reinstalling the apps won't recover their data as it has been permanently erased from the phone. Other useful features that are added to this uninstall app include battery usage tracking, app usage tracking, and virus scan.
Features
Intuitive user interface
User-friendly design and layout
Uninstall Android apps within seconds
Option available to uninstall several apps in a batch
Various sorting modes to find the app you want to remove
Search option to look for particular apps
Track the battery usage of the installed apps
Option to track the app usage
Scan for viruses by using the Virus Scan feature
Uninstall History section to see the apps you have uninstalled
Conclusion
Easy Uninstaller App Uninstall is an app which is marketed towards people who want to uninstall unnecessary apps that are hogging their phone's memory. It provides them the opportunity to free up space on their phone in a safe manner within a few simple clicks. It is definitely a handy uninstall-app to have on your phone.
---
Add a review
Tell us your experience with
Easy Uninstaller App Uninstall
3.3.4
RELATED PROGRAMS
Our Recommendations
---
---
---
---